Last weekend, we found ourselves in San Francisco for about 36 hours — where we had a cool day and a half to rest following our latest mileage run. Upon landing, we were ready for hot showers and a warm meal (or two) in America's best Chinatown.
Booking the HR San Francisco
The Hyatt Regency San Francisco is conveniently located on the east end of the Financial District along the Embarcadero. Standard room rates typically run for $300-$400/night, but depending on availability can go much higher. As a category 5 Hyatt property, an evening at the HR San Francisco will set you back 20,000 points (or 27,000 for Club Access). We happened to find an off-night priced at $150 last weekend, which made this property a great value for our weekend retreat.
Parking at the Four Embarcadero Center parking garage can be charged to the room, and therefore is waived for Globalists on Free Night Awards. Otherwise, parking is upwards of $50/day.
There is a $25 destination fee plus taxes and fees, which should be waived for Globalists. After a quick reminder at check-out, the Front Desk Associate quickly apologized and printed a new folio with the fee waived.
Additionally, breakfast in the restaurant downstairs is not included for Globalists (it's a $33 upcharge per head), but we wouldn't have taken it anyways given how much we loved the lounge. We skipped breakfast anyway, in lieu of some of our favorite spots in San Francisco we wanted to visit while we were in town.
Checking In
The San Francisco Embarcadero is an enormous hotel and venue, featuring 72,000 square feet of venue space and 804 guest rooms with beautiful, sweeping views of the San Francisco Bay and city skyline.
After arriving into SFO at 10:30am, we arrived at the Hyatt Regency hoping for an early check-in. Looking at the room type listing online, there doesn't seem to be a standard suite room type, as all suites are classified as premium suites, but we were quite satisfied that our Hyatt Globalist status granted immediate check-in to a Bay View Balcony room at 11am. The great weather San Francisco often enjoys during this time of year meant we spent a lot of time on the balcony enjoying the ocean view and breeze.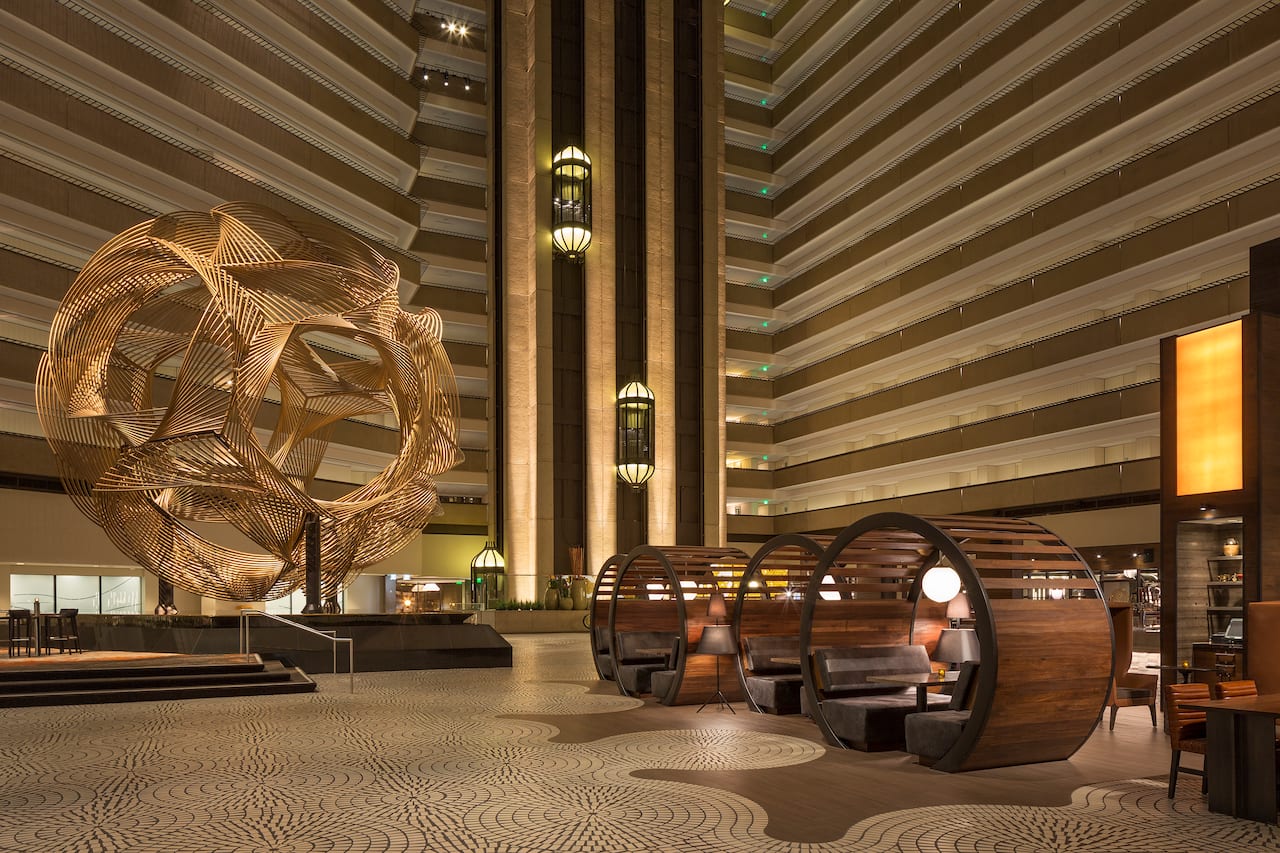 Rooms appeared to be recently renovated, and felt appropriately sized for the location. They come equipped with a mini fridge, separate work space and 42″ LG TVs. But the highlight of these rooms are the balcony seating area and view of the Bay. (Excuse the messy photos)
The rooms also come with Homedics Soundspa machines, which I find a nice touch since it was the first rain fall I've heard in California this year.
Club Lounge
The absolute stand-out feature of this property is the 17th floor Club Lounge, which is free with Hyatt Globalist status, but can also be purchased as part of the room rate. Lounge services and hours are noted on the back of the room key, which is a helpful reminder.
The Club Lounge features an absolutely breath-taking 360 degree panoramic view of San Francisco and the Bay. I imagine a holiday fireworks display here might be comparable to the views we had at the Renaissance Hong Kong Harbor View Hotel over New Year's.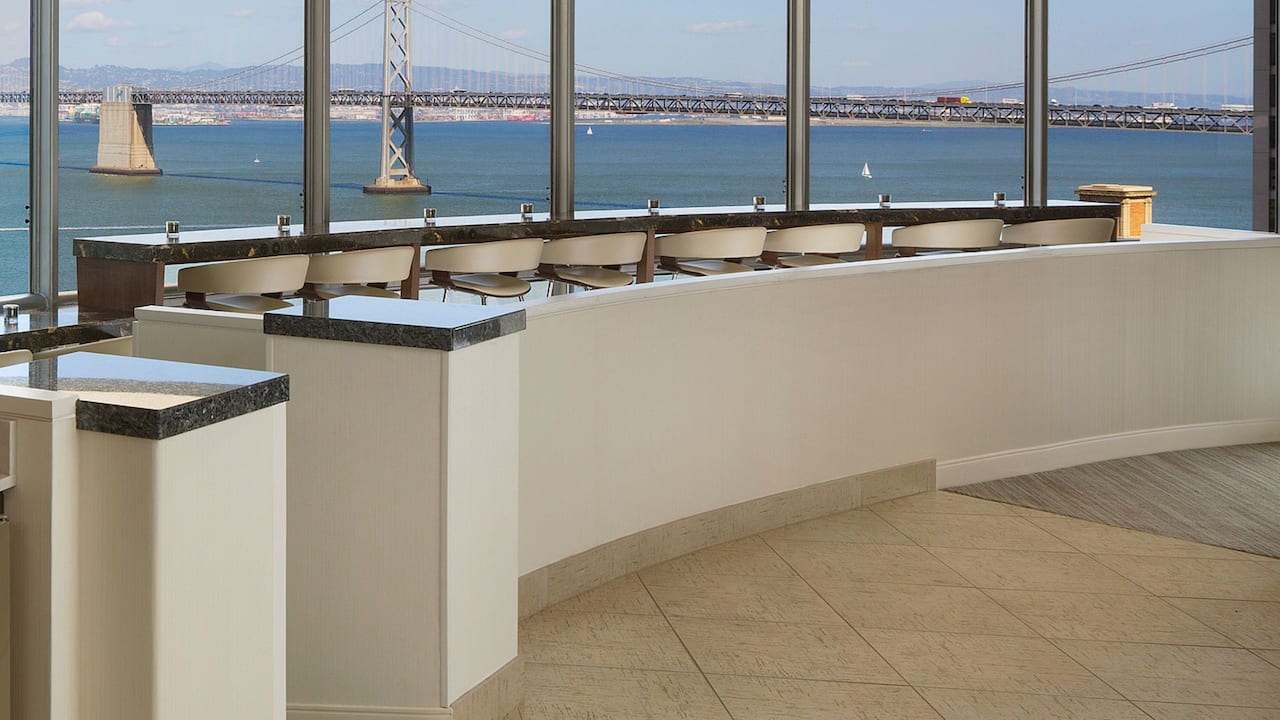 The Club Lounge features plenty of seating and was never very full, meaning it wasn't difficult to get a great view (although quite honestly, you can't buy a bad view up there).
Breakfast, afternoon snacks and evening hors d'oeuvres are offered in the Club Lounge, all of which are better than what we're accustomed to seeing at HRs in the states. A TV screen at the lounge entrance sets expectations for dinner each evening, and the evening spread is more than sufficient to make a full meal. On this particular evening, we were served an assortment of salad, breads, cheeses, shishito peppers, deviled eggs, braised lamb, and a variety of finger foods and dips. Food was kept fresh and refilled quickly.
They also have amazing chocolate chip cookies, which I ate way too many of.
Between the lounge offerings, comfortable seating areas and the million dollar view of the Bay Bridge, this quickly tops the list as one of our favorite domestic Club Lounges.
Summary
Overall, this is absolutely a property we plan to visit again — maybe even regularly — especially if we see rates dip under $200. We're disappointed they decided to add a Destination Fee at this location, which seems to be the trend throughout the city, but it makes Globalist status even more rewarding. Those with Hyatt Globalist status will find this property to be an incredible value, and even for those without it, we'd highly recommend a room rate that includes lounge access if only for the view.